You're moving to Lakota, and the excitement has hit you. Moving day is coming up, and nothing could knock you off Cloud Nine. If we're being honest, however, a day or two of moving can be beyond stressful. There's a lot that can go wrong if we let that excitement get in the way of proper planning for the big day.
It's unfortunate that the entirety of your pre-move preparations, and the multitude of tasks to finish, down to maybe a day. Tensions run high, and your time is precious. This is the reason why it's of such importance to have a plan to make this day run smoothly and efficiently. No better time than the present to prepare for the day to come! Here are a few common moving day mishaps and mistakes, and some solutions to help you overcome them.
Getting Behind on Your Packing Schedule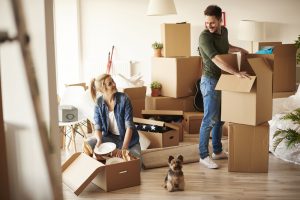 The Mistake: Everyone knows you shouldn't leave any packing for the actual move day. However, often times homeowners underestimate both the importance of getting all the packing done ahead of time, and the process of planning out a packing schedule. If you keep putting off packing those few extras boxing for another day, you're doing yourself a huge disservice.
Of all the things that should happen on moving day, packing should not be one of them. In the perfect scenario, it's best to have all of your boxes packed, taped shut, and ready to go at least a few days before the move. The only thing you should leave open is maybe one or two containers, or boxes for those "essentials" you may need till the last minute. If you've hired movers, you want to be sure they have ample time to get those boxes out of your old living space and into a moving truck. If you're moving yourself, you'll want to make sure you have as much time as possible to take those boxes out of your home. There's no time to pack when you only have a day to be finished moving out.
The Solution: First and foremost, make yourself a packing checklist. Start out by taking an inventory of each room. Decide what's going into boxes, what will be sold or donated before the move, and what needs to be thrown out. Based off of this list, you'll be able to estimate how much packing supplies you'll realistically need for this inventory. You can avoid a large amount of stress by using your checklist and sticking to a plan:
Make a timeline for your packing, and stick to it.
Start packing as soon as possible. Make sure to prioritize rooms that require special care.
Avoid wasting your future time by getting the right amount of packing supplies now.
Start with the most difficult to sort out areas, and work your way to the easiest.
Ask for help if you feel like you're falling behind.
If you're not going to meet your deadline for reasons out of your control, hire assistance to help you. There are such things as professional packer, and they can help you finish the job.
That Last Box: The Necessities Box
The Mistake: Remember that once you've packed a box full, you shouldn't have to open it up and dig through it to find an item that you've realized you need days later. It happens all the time, you've packed up your entire kitchen only to realize you don't have utensils to eat a meal, or make your morning cup of joe. Or maybe you've packed away all of your clothing and toiletries only to realize you don't have anything to sleep in, or toothpaste to brush your teeth with. It's likely one of the most common moving day mishaps, but it's a simple one to fix.
The Solution: Set aside one (or more) small or medium sized easy to open container. Make sure it's clearly marked as a "necessities" box so it doesn't get moved around with the other boxes. Make a list of all of the items you typically use within a day. If your list is fairly long, try cutting it down by asking yourself what you just can't live without, or what you need to literally survive. Items like medication, contact lens supplies, and a charging cord. If you can't survive without it for even the one moving day, add it to the list.
By thinking ahead, and putting these items into a container, you'll easily be able to access it throughout your move, and on the actual moving day. Once you're completely moved into your new residence, you won't have to search through a pile of boxes to find that one thing that is rather important to your daily life.
Leaving It Till the Morning Of
The Mistake: We all do it. We leave a few simple tasks for the morning of the day we go on holiday, or before a big get together at the house. Leaving a few tasks to finish the morning, or day of your move is no different, right? A huge mistake is leaving something moving related till the very last minute. Moving across the street is stressful enough, but if you're moving a great distance, there's no time to finish things up before you hit the road. Moving can be highly unpredictable. Even with a fair amount of planning, things can go wrong. Completing a few tasks on the big day could lead to you losing hours of your valuable time.
The Solution: Set aside you moving day for just that: moving. Any tasks that are required of you, or your family should be finished at least a day prior to your moving date. This day, although stressful, should be filled with excitement. This excitement shouldn't turn into stress because you have to cram a list of errands into a few hours before you set off.
If you're not planning to eat out on the moving day, prepare your meals a day before. If you're moving animals or young children, have any toys, treats, or essentials packed in the car and ready to go well beforehand. Spend some extra time prepping a few days before, and save yourself from any added stress the day of!